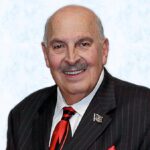 Over 40 years ago Clive Ensher,  was wandering around a farmers market in N.J. where he spotted some unusual pieces of costume jewelry.  It was love at first sight and as they say, the rest is history.
He inherited his love of antiques from his parents, Virginia & Napoleon Ensher who were avid collectors of fine antiques and oriental rugs. His mother owned and operated Virginia Ensher Antiques retail store for many years.
For the most part, Clive has specialized in what he calls  "making a statement" jewelry.  He never worries about purchasing  "ordinary" jewelry, instead Clive focuses on uniqueness.  It is his belief that every piece of jewelry should make a unique statement whether that be bold, elegant, dramatic, every day work wearable or just plain fun.
Clive's Credits Include:
♦ Owner Of C.H.E. Antiques, LLC.  ( 40 years) & website: www.clivesuniquejewelry.com (5 years).
♦ Lecturing in  Adult Education Courses & Seminars.
♦ Exhibits in major antique shows in New York, Philadelphia, Baltimore & Washington, D.C. 
♦ Lecturing in Pennsylvania & New Jersey areas on the history of costume jewelry for various clubs and associations.
♦ Clive's jewelry has been the main presenter in fashion show fund raising events in Pennsylvania & New Jersey.
♦ Clive specializes in appraising all types of jewelry for estate and personal agendas.
♦ Clive specializes in jewelry consults…..what to wear with what for special occasions.