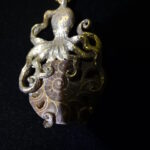 "I'd like to be, Under The sea in an Octopus' garden In the shade" The Beatles
Once again we say when Clive goes by himself jewelry shopping, one never knows what he will bring back……and this pendant is a prime example….the above left photo shows an Octopus partially hiding in the shade.  But this is not any ordinary Octopus….this intelligent creature is made of Sterling Silver and is clutching a fossilized Ammonite shell  all supported by a Sterling Silver chain that Clive has added to the pendant.  Jewelry should be as unique as the individual wearing it.
Metal: Sterling Silver
Material: Ammonite Fossilized Shell.
Size Pendant: 1 1/2″ x 2 1/2:
Chain Length: 19″
Age: Contemporary
Condition: Sterling Silver Chain & Pendant Need polishing..slightly tarnished.
Item #: 5630
Price:$ 125.00
As usual shipping & insurance are free.
For a closer look, please click on photos below.