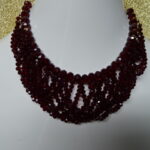 Perfect for any occasion, here is a ruby red faceted crystal necklace which consists of a main track of about 32 larger crystals which supports a multi strand swag of matching crystals.  The necklace with the chain measures about 14″ across.  Perfect for any occasion.
Item #: 5037      Price: $ 45.00
Shipping & Insurance Are Always At No Charge.
For a closer look, please click on photos below.