WHY BLEND IN WHEN YOU WERE MEANT TO STAND OUT ? !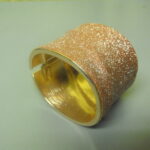 Let's see…..there is pink eye, pink pigs, pink sky, your little pinkie, Pink Root, and finally a Pink Lady cocktail.  None of these can compare in sparkle and bling and glamour like the pink  spring loaded cuff pictured above.  The oval cuff measures 1 1/2″ X  2 1/4″ inside diameter.  It is spring loaded and nub closure at opposite end.  So get ready to tell the world you are "in the pink".
Item #: 4929      Price: $ 44.95
• Shipping & Insurance Are Always At No Charge 
• For A Closer Look, Please Click On Photos Below.