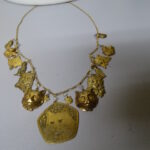 From Pididdly Links, Kingston, N.Y. comes this terrific 1970's vintage brass cat necklace loaded with 15 cat charms accented with Aurora Borealis gem shaped crystals. The necklace has a metal signed tag attached to the pinch barrel clasp. The necklace measures about 24″ in length.  This is a cat lovers dream come true.  From what we understand, this is a rare necklace and we have not polished it and have left it in its original condition.  We think it's the cat's meow!
Item # 5028      Price: We Are Sorry, But This Necklace Has Been Sold
• As always, shipping & Insurance are at no charge.
• For a closer look, please click on photos below.