A black Onyx, faceted, crystal necklace in a macrame design with several rows of smaller crystals ending in a larger size border of crystals.  No complications here…just an easy to wear, go with any color necklace.  This collar type necklace measures about  8 1/2″ in length with a 2″ extension chain.  This is an easy statement to make.
Item # : 4581      Price: $ 60.00
• Shipping & Insurance Are Always At No Charge
 • For a closer look, please click on photos below.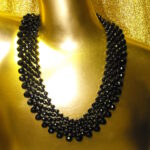 <