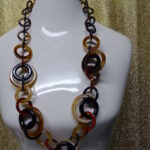 This acrylic necklace (perfect for Fall & Winter) consists of randomly placed various sized circles in brown, beige, black, wine,  in a closed slip on style.  The largest circles are 2″ in diameter and the smallest circles toward the back of the necklace measure about 1″ in diameter. This a very lightweight necklace and is easy, oh so easy to accessorize. So, are you going around in circles?…..let this necklace do it for you instead. !
Item # : 5030      Price: $ 65.00
As usual all shipping & insurance are at no charge.
For a closer look, please click on photos below.