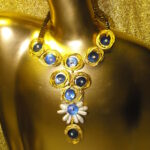 Are You Going Around In Circles?……..Stop……..Let This Necklace  Do It For You.!
Nine gold circles surround additional circles of Mother Of Pearl with Freshwater Seed Pearls for accent.  As if that were not enough, a starlet medallion of Freshwater Stick Pearls accents the entire necklace .   All this is supported by rows of copper luster beads to end in a twist clasp.  Joe Vilaiwan who is the designer of this signed piece is knows for his internationally  created statement jewelry worn by the likes of Joan Rivers and so many  other women of fashion.  Each circle measures about 1 1/2″ in diameter  and the entire necklace measures about 12″ in length.  So……Going Around In Circles Will Get You Nowhere…….Relax  & Let This Statement Necklace Do It For You.
Item #: 4800      Price:$ 350.00
Remember: Shipping & Insurance Are Always FREE.
For a larger view, please click on photos below.