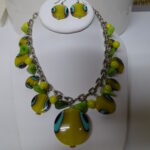 Waste Not, Want Not
A very clever and imaginative craft individual has salvaged Bakelite and acrylic shapes and reinvented them into this charming silver chain link necklace.  The pieces that have created this necklace are vintage and older. The largest pendant shows some very slight signs of wear which are almost invisible.  The necklace measures 14″ with an additional 5″ extension. The set includes matching disc earrings. Clives Unique Jewelry acquired it because of its unusual color and unique pattern!
Item # : 4967      Price : $ 45.00
• As always, shipping & insurance are at no charge.
• For a closer look, please click on photos below.