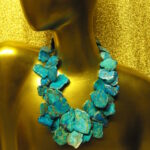 WHY blend in WHEN YOU WERE MEANT TO STAND OUT ?!
Artisan crafted turquoise color Jasper stone necklace in a double loop design consisting of irregular shaped chunks of Jasper placed in a random pattern. Each piece is individually knotted and is supported  by a lobster claw clasp. Let's make a striking Summer statement or any season for that matter.
Item # : 4952      This necklace is no longer available.
• As always, shipping & Insurance are at no charge
• For a closer look, please click on photos below.