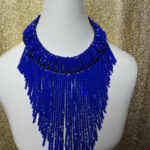 This Cobalt Blue waterfall necklace is the third in a series of exclusive necklaces made especially for Clive's Unique Jewelry. The Cobalt Blue  1 1/2″track is bordered by black beads and supports over 50 strands of blue crystals in graduated lengths. The entire necklace stretches about 14″ in length. Making a statement no matter what the color.
Item #: 4897      Price: $ 150.00
First time buyers receive up to a 20% discount. Please click HERE for details.
As always, shipping and insurance are at no charge.
For a closer look, please click on photos below.