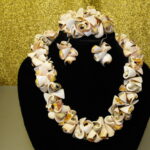 This Is Not A "Shell Game" But The Real Thing !
On a recent trip to Hawaii, Clive's Unique Jewelry  purchased this demi parure set consisting of a necklace, earrings, and stretch bracelet made from spiral shells. The colors are subtle ranging from light pink to cream to brown tones.  The spiral shells really look like miniature pieces of sculpture and judging from the jewelry findings, we think this is a vintage set probably made in the 1970's or so. The shells are matched beautifully in color and uniformity.   It is obviously artisan crafted and has a wonderful "feel" to the pieces.  Make a statement from sea to shining sea !!
Item #: 4859      Price: $ 115.00
Remember: Shipping & Insurance Are Always FREE.
For A Closer Look, Please Click On PHotos Below.