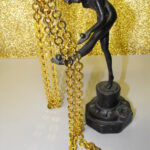 Classic No Matter How You Look At It.
This previously owned necklace signed by Salvatore Ferragamo probably was born as a belt which also had a waist wallet attached to it.  We have decided that it makes a beautiful necklace all by itself.  It is in beautiful condition  and chains and tassells etc are all in style. But the best thing about this necklace is that it will never go out of style……wear it with anything….dress it up or down, it does not matter.   This Ferragamo necklace makes a universal statement now and always.
Item # : 4880      Price: $ 150.00
Remember: Shipping & Insurance Are Always  Free.
For a closer look, please click on photos below.