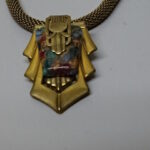 Presented here is a magnificent retro example of Art Deco Craftsmanship for fashion costume jewelry. The center medallion (enhancer) can be interchanged with any number of chains. We have included it with a serpentine tubular mesh chain. Both the chain and the pendant are signed by Jan Michaels a world famous San Francisco artist who Clive knows personally and has purchased many of her works . This particular pendant is polished brass and contains a muted color marble Trapeze shaped stone encased in a Deco brass design. The pendant measures 2 1/2″ in length and the schain measures about 15 1/2″ in length and the generous 2 1/2″ extension with a lobster claw clasp. The attention to detail is great and the entire piece is very well made.   The Art Deco movement  dared to be different…….you can too.
Item # : 5186      Price: $ 145.00
As usual shipping & insurance are at no charge.
For a closer look,please click on photos below.