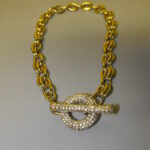 Another Gem From Clive's Private Collection.
This necklace, although not old is from Clive's private collection.  This is one of those pieces that is very well made consisting of a double/single chain link with a center Rhinestone crystal ring and toggle. This could almost pass as a choker. The total length is 17″ stretched out.  This is understated elegance at its best.  So, why not make a super spectacular statement in understated elegance.
Item #: 4898      Price: $ 65.00
First time buyers receive up to a 20% discount, please click HERE for details.
Shipping & Insurance Are Always At No Charge
For a closer  look, please click on photos below.