The Pineapple:
It's been around for hundreds of years and along that time many symbols have been attached to it……rarity, wealth, and power. it expresses warmth, good cheer and good vibes.  In Southern hospitality,  the Pineapple translates to friendship, hospitality and warmth and more recently as a symbol of good luck because of its many eyes and therefore  sees the opportunity ahead faster than others.  So you might ask what's this got to to with a piece of jewelry…..well here it is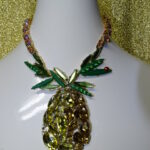 This magnificent necklace by Betsey Johnson measures 5″ tall by 4″ wide.   (This includes the pineapple and the leaves which also sports a small Ladybug on one of the leaves.   (Ladybugs are also a symbol of good luck.)   The Pineapple is supported by 10 faceted and pronged pink Aurora Borealis Crystals  (we think they are there to indicate it is ripe for the picking)   The necklace is about 10″ long with a very generous 3″ extension chain end with a golden heart shape with Betsey Johnson's signature.   The leaves are enamel and the Pineapple itself is made of foil backed yellow and tan rhinestone crystals.  With this necklace you can be a beacon of friendship, warmth and hospitality not to mention that you will make a wowser for a statement!!
Item # : 5138      Price: $ Sorry this necklace is no longer available.
•  Shipping & Insurance Are Always At No Charge
•  For a closer look, please click on photos below.