WHY blend IN WHEN YOU WERE MEANT TO STAND OUT !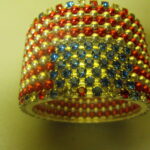 It's time to show your patriotic colors in this solid cuff bracelet decorated with red & white pearls, & red white and blue rhinestones in a solid clear acrylic cuff. The cuff measures 2″ wide and the inside diameter is 2 1/2″.  Why wait till July 4th to show your patriotic colors…..we think this is a winner right now.
Item #: 4940      Price: $ 95.00
• As always, shipping & insurance are at no charge.
• For a closer look, please click on photos below.