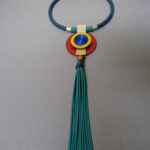 Clive's  Unique Jewelry has just acquired several outstanding, exclusive designed necklaces from Noriem Paris Clothing & Accessory Boutique. The avant garde Japanese designs consist of  mixed materials in a unique geometric presentation.  If you are looking to wear a unique design, then this necklace is for you. This particular multi color necklace sautoir measures about 15″ in length. It contains a magnetic clasp for easy attachment. These are the best examples yet of " unique " in Clive's Unique Jewelry.
Item #: 4979      Price: $ 145.00
• First time purchasers may receive up to a 20% discount. Please click HERE for details.
• As always, shipping and insurance are at no charge.
• For a closer look, please click on photos below.