WHY BLEND IN WHEN YOU WERE MEANT TO STAND OUT ?!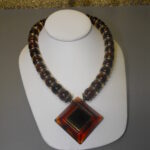 Presented here is a wonderful example of Napier jewelry of the 1950's +. The necklace consists of round faux amber beads separated by golden discs all strung on a brass chain. The necklace ends with a square pendant with a brass inlay.  The necklace is stamped NAPIER on the clasp in capital letters which indicates that it was made prior to 1980.  This makes an excellent addition to your vintage collection. If you do not have one, then this is a great starter piece. 
Item #: 4942      Price: $65.00
• As always shipping & insurance are at no charge.
• For a closer look, please click on photos below.