Do you remember the vintage TWA or Pan Am travel posters?  As soon as we saw this brooch, it immediately brought up those visions.  This Moulin Rouge signed brooch  contains a  round ,orange/red, enameled center disc with a silver tone Chinese Junk superimposed with a vintage passenger plane flying overhead.  Six oriental charms dangle beneath supported by red and black crystals on miniature springs.  Ok purchase this wonderful brooch and then pack your bags !
Material: Metal, Enamel, Crystal Stones
Dimensions: Disc-1.75″ wide X 5″ Tall
Age:  Vintage
Condition: Very good with some minor wear marks
Item #: 5709
Price: $ 95.00
As usual shipping & insurance charges are free.
For a closer look, please click on photos below.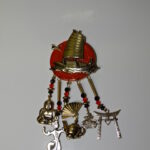 "0" />