WHY BLEND IN WHEN YOU WERE MEANT TO STAND OUT !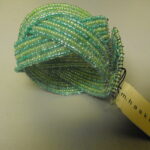 Presented here is a beautiful two tone pastel green beaded bracelet with a M. Haskell tag. Yes….this is a Haskell design but the Haskell company sold the Designer's name to China. The result is Haskell jewelry is now made in China as the tag indicates on the verso. Some of the jewelry still has that Haskell "flavor" as this bracelet indicates. It is a flexible open wire beaded cuff with seed pearl droplets on the 4 ends. The cuff is almost about 1 1/2″ wide and represents an "over/under" weave pattern. We think this one is a winner just like the Haskell designs of years gone by.
Item # 4939      Price : $ 45.00
• Shipping & Insurance Are Always At No Charge
• For A Closer Look, Please Click On Photos Below.