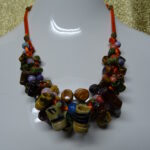 " A Jug Of Wine, A Loaf Of Bread And Thou"……(plus this necklace ! )
Clive's Unique Jewelry could not resist this delightful and whimsical necklace made of miniature ceramic mugs and jugs of all shapes and sizes and accented with glass beads ……all supported with knotted silk rope.  It's a artisan crafted piece but no signature of the artist.  Each piece is unique in its own right all clumped together to make a charming cluster.  The entire length of the necklace is 23″.  This necklace makes a statement of just hown unique Clive's jewelry really is.
Item # : 4958      Price: $ 95.00
• As always, shipping and insurance are always at no charge.
• For a closer look, please click on photos below.