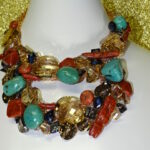 Clive's Unique Jewelry modestly calls this recent necklace  purchase a LOLAPALOOZA!! This is another example of unsigned jewelry….orphans of beauty!! This unbelievable, one of a kind artist crafted necklace consists of 2 tiers of Branch Coral, Turquoise chunks intermingled with faceted crystal  discs both large & small and randomly placed and accented with black square crystals and faceted slate glass beads.  All of the above is then wired into Copper netting.  What a show stopper. You have to admire the work, labor and creativity put into this stunning necklace.  The necklace measures about 9 inches in length and measures about 6 inches at its widest point.  It has a secure hook & eye clasp.  This necklace is what Clive's Unique Jewelry is all about.
Item #:  5432      Price: $ Sorry, It's Sold
•  As usual shipping & insurance are at no charge.
•  For a closer look, please click on photos below.