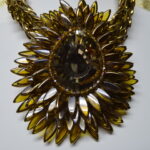 Seeing Is Believing !
This magnificent necklace is designed and signed by Joe Vilaiwan consists of honey colored bezel set glass petals culminating in a huge floral pattern sunburst with a large sparkling brown multi tiered acrylic center medallion.  ( wow that was a mouthful) . The two columns of glass petals that support the medallion overlap one another.  The floral sunburst measures 5″ high and about 4 " wide.  The center medallion measures about 1 1/2″ x 2″.  The entire necklace measures about 12″ in height with a very generous extension chain. If you want a statement necklace, this might be the one you want to purchase !
Item #: 4746      Price: $ 750.00
• As usual shipping & insurance are at no charge.
• For a closer look, please click on photos below.