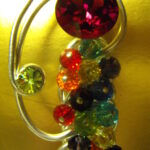 HOLD ON TO YOUR HATS…..OOPS, I MEAN YOUR NECKS !
Clive's Unique Jewelry has just discovered this spectacular jewelry  designer, Jeff Lieb from Chicago and what designs they are. This talented man has created some of the most unusual and wearable jewelry that adorns cinema stars, celebrities, and all manner of fashion conscious individuals. Although we have just discovered him, he has made quite a name for himself over the years. What we have here is an Aluminum twisted rope collar with a sculptured Swarovski  multi color crystal pendant.  (F Y I…Jeff is one of the approved designers for Swarovski Crystal Element Division). The Aluminum collar is adjustable and the pendant which is 5″ in length consists of 18 Swarovski crystals in various shapes and sizes.  The pendant is metal stamped Jeff Lieb to the verso. Your neck will thank you for purchasing it.
Item #: 4936      Price: $ 250.00
• Shipping & Insurance Are Always At No Charge.
• For A Closer Look, Please Click On Photos Below.