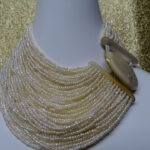 Presented here is a  vintage seed pearl necklace designed by Gerda Lynggaard for MONIES.  This unsigned vintage necklace boasts of 46 strands of seed pearls in a graduated format capped with a Mother Of Pearl Bar and a large oval Mother Of Pearl clasp and leather loop.  Clive's Unique Jewelry was the original owner of this magnificent vintage necklace and we had the opportunity to re acquire this piece from the second owner. Although it was previously worn, the necklace has been very well maintained through the years. Let's give this magnificent necklace a new and loving home.
Item #: 4927      Price:  We Are Sorry, But This Beautiful Necklace Has Been Sold.
• As usual, shipping & insurance are always at no charge.
• For a closer look, please click on photos below.