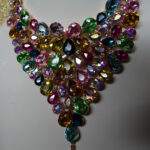 We could not stop looking at this brand new sparkling, dazzling, irresistible,  multi color, teardrop , V shape necklace.  The teardrops come in various shapes and sizes in a random pattern.  The colors are magnificent and flash every which way.  The top of the V measures 5-1/2″ across and about 8″ long.  The necklace is supported by a 4″ chain on either side dotted with rhinestones as well as a 2″ extension chain. Make a dazzling statement this holiday season with a " belle of the ball" look.
Item #: 4977……Sorry, This gorgeous necklace is sold.
As always, shipping & insurance are at no charge.
Fir a closer look, please click on photos below.