WHY BLEND IN WHEN YOU WERE MEANT TO STAND OUT ! ?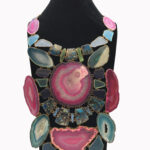 We are pleased to present this one of a kind necklace designed by Charles Albert who is internationally known for his unique and creative jewelry designs. This necklace is a prime example of Albert's creativity which consists of pink slices of Agate, Jasper, Sea Glass & Blue Biwa  Pearls as accent compliments.  Clive is very proud to present this magnificent example of statement jewelry.
Item # : 4945      Price: This necklace is no longer available.
• As usual, there is no charge for shipping & insurance.
• For a closer look, please click on photo below.