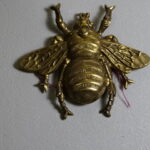 Bees…..so very necessary to our very existence and what a great way to  show their appreciation for what they do than with this Bumble Bee pin. It was designed and signed by my favorite artisan Jan Michaels who no longer creates this wonderful jewelry. This brass Bee measures wing tip to wing tip about 2 1/2 inches across and stands about 2 inches tall and the detail of the Bee is remarkable. Also, if you loves Bees, then check out our earring section where you will also find a Bee or two.  It's a "honey" of a pin and deserves a nature's lovers home !
Item #: 4453      Price: $50.00
•  As usual shipping & insurance are at no charge
•  For a closer look, please click on photo below.