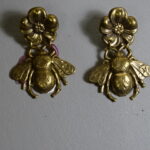 Show your appreciation for the tireless work of Bees with this pair of Bumble Bee earrings about ready to pollinate  attached flower.  These earrings are designed and signed by my favorite artisan Jan Michaels who no longer creates beautiful jewelry.  The trapeze hinged earrings measure about 1 1/4 inches from wing tip to wing tip and measure almost 2 inches tall and are pierced.  These earrings "buzz" with uniqueness !
Item # : 4764      Price: $ 50.00
•  As usual, shipping & insurance are at no charge.
•  For a closer look, please click on photo below.