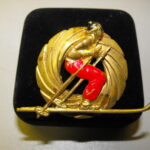 Skiing Down The Slopes Has Never Been More Fun.
This young lady is just is racing  down the slopes in her black & red ski outfit complete with swirling snow behind her.  This  young lady has had her share of bumps and bruises on the slopes judging by the scratched enamel black & red paint on her outfit. The detail is absolutely  great complete with her blond hair flying in the breeze and that wonderful cherry red lipstick.  The pin is very old, the brass needs some polishing, and the clasp needs repair or replacement…..but think of the fun you would have in restoring this pin to its original glory.  The pin is 1 1/2″ in diameter, 1 1/2″ tall and the skis themselves are almost 2 1/2″ long.  By next winter you and her could make a huge statement on the slopes.
Item # : 4883      Price: $ 45.00
There Are Always No Charge For Shipping & Insurance
For a closer look, please click on photos below.