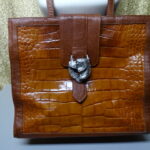 Clive's Unique Jewelry is very proud to present this one of a kind unique Alligator skin leather tote by Glenn Miller For Ann Turk.  Anne Turk's handbags, purses and totes are usually one of a kind and very unique.  Unfortunately she passed away in 1996 and during the 1980's she and her son Glen Miller produced very high end purses etc to exclusive clients.  Her handbags sold for $500.00 and up. Many of her handbags were were accented with gold and silver embellishments.  Anne Turks handbags were sold at Bloomingdale's Saks Fifth Avenue and other selected stores.  Elizabeth Taylor Ivana Trump and Naomi Campbell were among her regular clients.  This vintage leather tote is in remarkable condition and shows very little wear as it was carefully cared for. Underneath the closing flap there is a piece if leather missing which I have shown in the photos below however it does not show for it is underneath the flap belt.  The silver embellishment is of a Labrador  Retriever against a genuine Alligator patterned background. There is an inside zippered compartment as well.  The leather is very soft and supple and there are some minor wear marks along the bottom stitching.  We have done nothing to the bag. You see it in the condition we purchased it. It needs a slight restoration/cleaning by a good shoe and leather repair place. This tote would be perfect for a  travel bag or a carry on by men or women.
Please Note: This bag is not returnable and we would be more than happy to answer any questions you might have prior to purchase.  Also if you wish us to clean/restore the bag after you purchase it, there will be an added charge for that service.
Material: Alligator, leather, Silver
Size: 13 Inches X 12 Inches
Silver Dog: 2 1/2 Inches X 3 Inches Weighs A
Little Over Four Ounces Of Silver
Shoulder Straps: Two Each about 15 Inches
Age: 1980's
Condition: Previously Used & Very Well Cared
For But There Are a Few Minor
Scratches that are barely noticeable
But Can Be Buffed Out.
Clasps: Magnetic Button Hole Clasps
Item Number: 5760
Price: 350.00
As usual Shipping & Insurance Charges Are FREE
For a closer look, please click on photos below.